Houston Personal Injury Attorney
Personal Injury Attorney in Houston, TX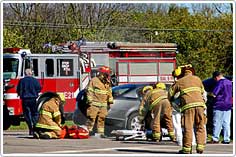 Car and truck accidents, as well as offshore worksite accidents, in or near Houston, Texas often result in catastrophic injuries and a need for a competent, caring personal injury attorney such as Attorney and nurse, Joyce Stamp Lilly, who is licensed both as a lawyer and registered nurse.
Severe injuries are caused by many different things. Auto wrecks, workplace injuries, burns and other severe impact accidents often result in traumatic personal injury, including facial and head or brain injuries, broken bones, and devastating damage to vital organs such as kidneys or the liver. Victims of severe personal injuries will often continue to experience pain and suffering and may need ongoing medical procedures, long term rehabilitation and sometimes residential placement. A brain injury or head injury is often an invisible disability, as the injured person may appear to have recovered, yet devastating behavioral or psychological effects remain for years afterward, affecting all whose lives are touched by the person who suffered the traumatic brain or head injury.
What Can A Personal Injury Lawyer Do For Me?
Joyce Stamp Lilly is an experienced trial lawyer, and with this knowledge base, she can professionally handle your case to satisfaction. First, Joyce will attempt to find a fair settlement- something that benefits you as much as you deserve, without the stress and hassle of the courtroom. Sometimes this can expedite the process while still getting you the awards that you're entitled to. However, Joyce lets the other side know that she's not afraid of litigation; in fact, with Joyce, this is widely known. Less experienced injury attorneys may jump at the first or second offer given, but often during negotiations it's this willingness to litigate that allows more beneficial offers to be given in the first place.
Remember, if settlement negotiations are fruitless, Joyce is not afraid to take your personal injury case to court. As a Houston injury attorney, Joyce knows that one of the most important weapons is preparation. The key to success is not only simple skill- it's also detailed research and thorough fact-finding. The precise facts of your injury case may just be what wins your case. Houston personal injury lawyer Joyce Stamp Lilly is well versed in thorough research, much as you'd expect a nurse and an attorney to be.
Your Personal Injury Case is Unique
There are many standard things that every case entails, especially at the broad level. Planning, preparation, and potential litigation- what's important is the intricacies of these tasks. Joyce will talk to you at length to hear out your story of the events that led to your injury, as well as get the evidence from police officers, witnesses, and whatever else there is- traffic footage, the cameras of nearby businesses or facilities, existing records and testimonies, and more. A skilled personal injury lawyer is capable of using all of these tools for you. Any documentation or evidence pertinent to your accident injury will be reviewed, so Joyce can build you a rock-solid case.
Offshore Workplace Injury Attorney
When someone is traumatically injured in a trucking crash or a worksite accident such as an offshore oil rig accident, it is not only that person who suffers or loses his or her life, but also the family of the victim whose way of life is often devastated. Children who are suddenly without a mother or father; wives or aging parents who depended on the work and care of the injured; coworkers, neighbors, friends and relatives who lose the talents of the injured are all victims of these tragedies. Attorney and nurse, Joyce Stamp Lilly is well equipped with abundant legal and medical knowledge and resources to help victims and their families:
Pursue other parties whose negligence may have caused or contributed to the injuries;
Litigate as necessary to recover monetary damages;
Monitor medical care and rehabilitation of the injured person
Assist the family or loved ones in understanding the effects of injuries on the victim.
Contact Joyce Stamp Lilly, R.N., J.D., P.C., Attorney at Law in Houston, Texas to request a free consultation if you, a loved one or a legal client has suffered catastrophic injury or wrongful death. Call her today at (713) 759 6430.